Update Your Home with Wood-Look Tile in Metairie, LA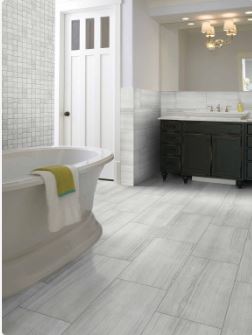 One of the best ways to keep your home feeling fresh is with new floors. There is nothing quite like getting a great new look while also increasing your comfort underfoot. Here at Premiere Flooring America, we recommend our exceptional wood-look tile in Metairie, LA, to achieve that goal.
Designed to look and feel like real hardwood, our tile is an excellent solution for any room in the house, and with an impressive price point, you know you are getting the best bang for your buck. Visit us at our showroom to learn more about our wood-look products and explore the many options we have available.
Save on Maintenance and Energy Costs
A common problem here in Louisiana is very high humidity. When moisture builds up in wood fibers and materials, it causes expansion and contraction, which leads to wear-and-tear in your home. However, when using tile, this is no longer a worry.
Tile does not absorb moisture, making it ideal anywhere in your home, especially bathrooms and kitchens. Additionally, porcelain and ceramic wood tile does not stain, and spills are easily wiped away.
Furthermore, keeping your rooms cool in the summer is simpler. Tile is naturally cool to the touch, saving money in the summer. Tile is also a great conductor for heat, and when combined with radiant in-floor heating will keep your feet warm even while barefoot.
Finding the Right Design
Discover our vast collection of look-alike tiles and find the surface that is perfect for your home's design goals. We carry hundreds of distinctive styles of ceramic and porcelain wood tile. With a unique grouted wood grain, our tiles are designed to replicate the look and feel of real wood.
If you are unsure of which style would look best in your home, our knowledgeable staff is always excited to help you find the right fit. Let us know your remodeling goals and personal tastes, and we will recommend the ideal solution for you.
Professional Installation for Your Floor
Regardless of which type of wood plank tile you choose, correct installation is required. If installed incorrectly your floor is more prone to damage, reducing its lifespan. That's why our certified installers are here for you. With our team's many years of experience, you can rest assured that your floor will look great for years to come.

Contact us to discuss our many wood-look tile options. We proudly serve Metairie, LA, and the surrounding areas.