Luxurious Carpet in Metairie, LA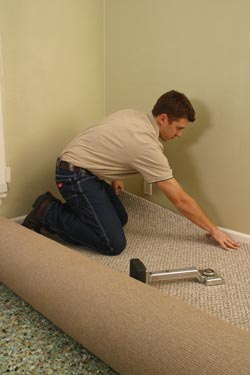 Give your home an amazing new floor by choosing our carpet in Metairie, LA. At Premiere Flooring America, we offer a number of carpeting solutions which are perfect for your home.
By adding a carpeted surface to your property, you will significantly increase the coziness of your home while also giving your rooms a unique new look. Carpets are ideal for bedrooms and living rooms where comfort is typically key. Additionally, the softer surface helps to reduce noise from footsteps, which will help you rest in peace.
Competitively Priced
When you are looking for a cost-effective floor option in your home, then carpeting is the way to go. Our carpet prices are varied to match any renovation budget allowing you to easily add the right new surface to your home.
Our flooring experts will work with you to determine your renovation goals and will help you find the perfect surface that matches with your planned aesthetic. To learn more about our exceptional prices or to explore our vast collection of top-branded flooring, visit our store.
Modern Designs
Keep your home feeling fresh with modern aesthetics when you choose from the many carpeting solutions we have to offer at Premiere Flooring America. We offer unique styles of carpeted surfaces ranging from traditional broadloom carpeting to modern carpet tiles.
With a broadloom surface, your carpeting comes off in a single piece to cover the entirety of your room. This gives you a seamless look in your room and is preferred when you do not want to add special patterns to your floors.
In contrast, carpeted tiles come in precut shapes and allow you to mix and match different colors and styles throughout your rooms. Want to design an oversized chess-board pattern in your child's playroom? With these tiles, you easily can. Additionally, because each tile is stuck down on its own, you can easily replace individual pieces if they are damaged as opposed to needing to replace the whole floor.
Professional Installation
No matter which carpet option you choose for your property, you should always choose our team to handle the installation. Our professional carpet installers have the experience needed to correctly lay out your new carpeted surface, ensuring it looks fantastic in your rooms. We will also help you achieve the unique design you want when installing tiles of carpet.
Contact us when you need help finding the perfect carpeted surface for your home. We proudly serve Metairie, LA, and the surrounding areas.