Vinyl Flooring in Metairie, LA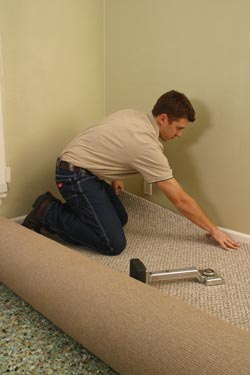 With our stunning collection of vinyl flooring, you can now find affordable floors that look like ceramic tile or hardwood planks. Our locally owned specialty store includes a number of stylish and durable vinyl floor selections. We offer a vast assortment of styles that possess the appearance of natural materials, but offer easy care and little-to-no maintenance.
We invite you to browse through the well-organized showroom in our flooring store. Here, you discover vinyl that looks like tile and wood, as well as vinyl in artistic patterns. Ask our design and sales professionals to show you samples of our brand-name flooring, so you can see what would look best in your home or place of business. We offer the following types of vinyl floors:
Vinyl Tile Flooring
Vinyl Sheet Flooring
Vinyl Plank Flooring
Easy- Care Vinyl Tile Flooring
While tile adds style and value to any home or business setting, sometimes it may not be the best option for you. When you are looking for resilient flooring that wears well in busy places, vinyl floor coverings are is the ideal choice. Vinyl is manufactured in layers, which makes it strong and resistant to moisture, stains, and scratches.
The manufacturing process is also the reason that vinyl tile looks so realistic. Advanced embossing techniques result in vinyl that mimics different types of tile. The advantage to you is flooring that looks like tile, but needs little attention. All you have to do is sweep and mop upon occasion. No other care is necessary.


Vinyl Sheet Flooring – Better Than Ever
Available in sheets of 6' and 12', this type of vinyl has been around for decades. However, vinyl sheet flooring has benefitted greatly from the latest in manufacturing and technology so it is stronger and more beautiful than ever before. You can find sheet vinyl that imitates hardwood plank and ceramic tile, as well as in fashion-forward patterns and the latest colors.
Sheet vinyl comes with two different types of backing – felt or fiberglass. Many of our customers prefer felt, which adheres securely to the subfloor, while others like the springy feel of fiberglass under foot. Ask our flooring experts to share our knowledge of these different types of vinyl so you can make an informed decision about your purchase.


Vinyl Plank Flooring for Those Who Love Hardwood
Discover everything you love about wood floors to be available in vinyl plank. This style of vinyl flooring has all the specific hardwood details, such as knots, grain, and whorls. You can even choose luxury vinyl plank in popular wood styles, such as distressed and hand-scraped.
Our customers love vinyl plank for its beauty and durability. Vinyl is strong and enduring. We recommend vinyl for households with children and pets, as well as for busy workplaces.


Vinyl Flooring Installation for Years of Enjoyment
We want you to walk, run, and play on your vinyl floors for many years to come. This is why we provide our customers with professional vinyl flooring installation. Let us schedule a convenient time for you. Expect our installers to arrive right on time with flooring and tools. We take care to install vinyl properly so that it looks attractive and lasts for many years to come.
Call us today at 504-509-5204 or visit our showroom on Veterans Boulevard in Metairie to see our selection of vinyl flooring. We proudly serve the communities of Metairie, New Orleans, Kenner, Destrehan, and Norco, Louisiana, and the surrounding areas.