Tile Flooring in Metairie, LA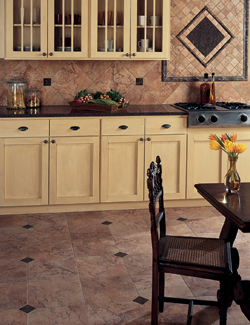 Discover all the resources you need to select, buy, and install tile flooring all at one convenient location. Come to our flooring showroom to see hundreds of types of flooring in all styles, colors, and patterns for every room in your house. You cannot go wrong with tile, because it is classically appealing, strong, and hypoallergenic.
Ask our design and sales professionals to show you different types of tile. These experts have extensive knowledge of the various brands and merits of tile floors and can help you choose what is right for your space. Find tile in a variety of options that will complement your home décor.


For Professionals Only - Tile Flooring Installation
Laying tile is a difficult task. It requires precise measurements so you can cut as few tiles as possible and avoid waste. Plus, the squares themselves must adhere securely to the mortar and the grouting must be done neatly.
We recommend using the services of our tile flooring installation professionals. These individuals have the skill and experience to install tile flooring properly. After all, this is what we have been trained to do. With our excellent workmanship, your tile flooring will look beautiful for years. Ask us about our lifetime installation guarantee. If you ever have an installation-related problem with your floor, we'll fix it at our expense.


What type of tile is best for you and your family? Most people choose porcelain or ceramic tile. Both are made of quartz, clay, and feldspar that is fired in kilns. This produces a strong and water-resistant flooring surface that is perfect for any room of your house. It also explains why tile is a perennial classic in kitchens and bathrooms.
Ceramic has a different look than porcelain - one of elegance. This makes it perfect for rooms where you would like to elevate the ambiance, such as in the foyer or a formal dining room. However, do not rule out its beauty in the bedroom, living room, or basement. This type of tile is softer and easier to cut, thus making it simpler to install. In addition, it costs a little less than its porcelain counterpart.


The Modern Appeal of Porcelain Tile
Install porcelain tile in your home and instantly increase the value and appeal of your property. This is a denser and harder type of tile that offers long-lasting strength. It is tough and resists breaking. Porcelain outperforms many other kinds of flooring. It does not scratch or stain, and it wears well under heavy foot traffic. Porcelain is prized for its modern flair. This clean look provides the perfect backdrop for any decorating style.


Cleaning Tile Floors Is Easy!
Keeping your tile clean and appealing is simple. All you have to do is wipe up spills when they happen and sweep or dry mop when you notice dirt or debris. Every once in a while, apply a little tile cleaning product to a mop for a more thorough cleaning. With very little care or attention, your tile flooring will serve you beautifully and faithfully for many years to come.

Call us today at <PHONE> to discuss which type of tile is best for your dining room – porcelain or ceramic. We proudly serve the communities of Metairie, New Orleans, Kenner, Destrehan, and Norco, Louisiana.